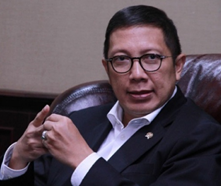 Lukman Hakim Saifuddin
Minister of Religious Affairs, RI
Lukman Hakim Saifuddin was born in Jakarta, November 25, 1962. His father was a ministry of religious affairs at the time of President Soekarno (1962-1968). Elementary and junior high school in Jakarta. Then he entered the Pondok Pesantren Darussalam Gontor, Ponorogo, East Java. He continued his study at the Faculty of Dakwa, Islamic University of As-Syafiiyah, Jakarta. During his college years, Lukman was active in NU. He stands out in the field of study, training, and research. His political career, he followed the NU tradition at that time anchored to the United Development Party (PPP). At the age of 35 years he became a member of the House of Representatives 1997-1999 period. Subsequently, three consecutive elections he became a member of the House and the latter, he became Vice Chairman of the MPR RI 2009-2014. At the end of 2014, he was appointed President Susilo Bambang Yudhoyono (SBY) to replace Suryadharma Ali, Chairman of DPP PPP, to become Minister of Religion Affairs in United Indonesia Cabinet. He served as a minister for only three months at the end of the SBY period. Due to his consistency in carrying fruitful results, At The leadership of the elected president Jokowi reappointed Lukman Hakim Saifuddin as Minister of Religious Affairs in the Indonesian Working Cabinet 2014-2019.
Farid Alatas
Syed Farid Alatas, a Malaysian national, is Associate Professor of Sociology at the National University of Singapore (NUS). He also headed the Department of Malay Studies at NUS from 2007 to 2013. He lectured at the University of Malaya in the Department of Southeast Asian Studies prior to joining NUS. His areas of interest are the sociology of Islam, social theory, religion and reform, and intra- and inter-religious dialogue. His most recent books are Ibn Khaldun (Oxford University Press, 2013 and Applying Ibn KhaldÉn (Routledge, 2014). He is currently researching on Salafism in the Malay world. His books are Ibn Khaldun (Makers of Islamic Civilization), Oxford University Press, 2013 Applying Ibn Khaldun: The Recovery of a Lost Tradition in Sociology (Routledge Advances in Sociology), 2014, An Islamic Perspective on the Commitment to Inter-Religious Dialogue, Institute of Advanced Islamic Studies Malaysia, 2008, Alternative Discourses in Asian Social Science: Responses to Eurocentrism, Sage, 2006, Democracy and Authoritarianism in Indonesia and Malaysia: The Rise of the Post-Colonial State, Macmillan, 1997, The post-colonial state: Dual functions in the public sphere (Department of Sociology working papers), National University of Singapore, 1994, Asian Inter-Faith Dialogue: Perspectives on Religion, Education and Social Cohesion (edited) (RIMA and the World Bank, 2003), Asian Anthropology, edited with Jan van Bremen and Eyal Ben-Ari (Routledge, 2005)