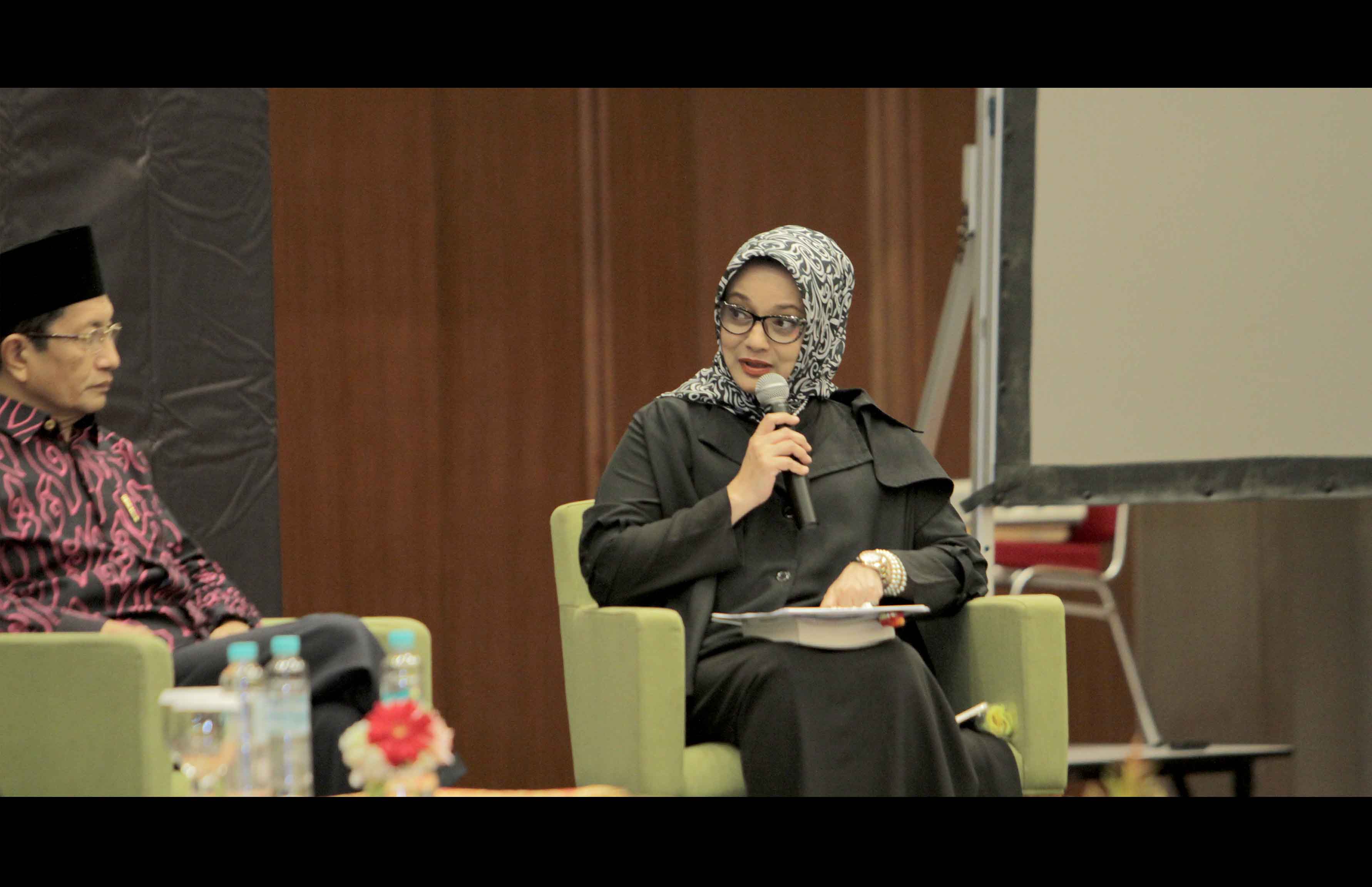 Prof. Azyumardi Azra, M.A, Ph.D
Azyumardi Azra, CBE was born in Lubuk Alung, Padang Pariaman, West Sumatra, Indonesia, on March 4, 1955. He is prominent as one of Indonesian public intellectuals,Muslim scholar and former Rector of Syarif Hidayatullah State Islamic University Jakarta. He graduated from Department of History, Columbia University (1992). He is known as a prolific books writer; member of advisory board of a number of international organizations such as UN Democracy Fund (UNDEF), International Institute for Democracy and Electoral Assistance (International IDEA).Currently, he is the Director of Graduate School, Syarif Hidayatullah State Islamic University Jakarta. In 2010, he received the title of Commander of the Order of the British Empire, an honorary order from the United Kingdom.
Prof. Amin Abdullah, MA, Ph.D
Prof. Dr. M. Amin Abdullah (born in Pati, Central Java, July 28, 1953) is a philosopher, scientist, hermeneutic expert and Indonesian Muslim scholar. He served as Rector of UIN Sunan Kalijaga, Yogyakarta for 2 periods (2005-2010) and was also active in Muhammadiyah organization with the highest position as Vice Chairman of Muhammadiyah Central Executive (2000-2005). He received Ph.D. from Middle East Technical University (METU), Ankara, Turkey, 1990. His career was Assistant Director of Postgraduate Program IAIN Sunan Kalijaga, Yogyakarta (1993-1996), Vice Rector I, IAIN Sunan Kalijaga, Yogyakarta (1998-2001), Professor of Philosophy IAIN Sunan Kalijaga Yogyakarta (1999), Rector of UIN Sunan Kalijaga Yogyakarta two Periods (2005-2010), Member of the Indonesian Academy of Sciences since (2012), Chairman of the Commission for Cultural Affairs of the Indonesian Academy of Sciences.
K.H. Husein Muhammad
K.H. Husein Muhammad was born in Cirebon, May 9, 1953. After completing his education at Pesantren Lirboyo, Kediri in 1973 he continued his studies at PTIQ Jakarta Graduated in 1980. Then continued studying to Al-Azhar, Cairo, Egypt. Returned to Indonesia in 1983 and became one of thecaretakers of Pondok Pesantren Dar al-Tauhid, founded by his grandfather in 1933. In 2001 he established a number of NGO for women's rights issues, among them Rahima, Puan Amal Hayati, Fahmina Institute and Alimat. Since 2007 he has been appointed as the Commissioner of the National Commission on Violence Against Women. In 2000 founded the College of Islamic Studies named Fahmina Institute in Cirebon. He active in various discussion activities and Islamic seminars, especially related to issues of Women andPluralism. And also actively writing in a number of mass media, writing and translating books. There are about 10 books produced. He received award from the Regent of Cirebon Regency as the Moving Leader, Builder and Performer of Women Empowerment (2003). He was the recipient of the Award from the US Government for "Heroes To End Modern-Day Slavery", 2006. His name is also listed in "The 500 Most Influential Muslims "published by The Royal Islamic Strategic Studies Center, 2010, 2011-2012.
Dr. Idrus Alhamid, M.Si
Idrus Alhamid was in Namlea, on 9 September 1972. In 2008, he received M.Si from Gadjah Mada University, Yogyakarta on Public Administration and in 2014, he received Doctor.
Prof. Dr. Nasaruddin Umar, MA
Nasaruddin Umar is the Grand Imam of Istiqlal Mosque, Guru Besar Tafsir (Professor of Exegesis) in UIN Syarif Hidayatullah, and the Rector of Perguruan Tinggi Ilmu Al-Qur'an (College of Qur'anic Science), Jakarta. He served as Vice Minister in the Indonesian Ministry of Religious Affairs (2011-2014) and General Director of Islamic Community Guidance in the same ministry (2006-2011). He is also the founder of the Religious Interfaith Dialogue Community and a member of the Indonesia-UK Islamic Advisory Group, founded by UK Prime Minister, Tony Blair. After finishing his study in Pesantren As'adiyah, Sengkang, Wajo, South Sulawesi, he enrolled in Sharia Faculty, IAIN Alauddin, Ujung Pandang, in the 80's, graduating with the Model Student Award from the institution. He then continued to IAIN/UIN Syarif Hidayatullah, Jakarta, for a Master degree (1992) and a doctor degree, with the best predicate (1998), with Perspektif Gender dalam Al-Qur'an (Gender Perspectives in Al-Qur'an) as the title of his dissertation. Pak Nasar, as he's more intimately known, was crowned as the Best Alumni by UIN Syarif Hidayatullah. During his doctorate study, he was a visiting student for a PhD Program at McGill University, Montreal (1993–1994), Leiden University (1994–1995), and Université Sorbonne (1995). Since then, he has been a visiting scholar at Shopia University, Tokyo (2001), School of Oriental and African Studies (SOAS), University of London (2001–2002), Georgetown University, Washington DC (2003–2004), and Université Sorbonne Nouvelle-Paris III. He is the author of at least 50 books and academic articles, among them Argumen Kesetaraan Gender—Perspektif Al-Qur'an (Paramadina, 1999), which examines gender bias in the Quran. He is also known as one of The 500 Most Influential Muslims in The World published by The Royal Islamic Strategic Studies Center, Jordan, and was endowed with Bintang Maha Putra Utama by the President of Republic of Indonesia in 2014.